Craft Contemporary
In 2022, Craft Contemporary was awarded a Mike Kelley Foundation for the Arts Organizational Support Grant, which offers unrestricted funding to arts organizations in Los Angeles County. The grant is flexible and can be used for everything from rent to programming. The Craft Contemporary put the funds towards the current exhibition, Luis Flores: Because of You, In Spite of You—on view through January 8, 2023.

We sat down with Susanne Isken, Executive Director, and Holly Jerger, Sr. Exhibitions Curator, to learn about Craft Contemporary's mission and programs. We also visited with Alma Ruiz, Guest Curator, and Luis Flores to hear more about the exhibition and Flores' work.
Pomona College Museum of Art - Todd Gray: Euclidean Gris Gris

In 2019, Pomona College Museum of Art (PCMA) was awarded an Artist Project Grants (APG) for the project, Todd Gray: Euclidean Gris Gris. Curated by PCMA's Senior Curator Rebecca McGrew, the exhibition consists of an evolving selection of photographic works, site-specific wall drawings, and a lecture series inspired by Gray's work, which is curated by Dr. Nana Adusei-Poku. Gray will be in residence at PCMA during the run of the exhibition—developing new work and changing the hang of the exhibition in response to the residency. This interview was conducted over the course of a few of weeks with Rebecca McGrew and Todd Gray through a series of emails.

Mike Kelley Foundation for the Arts (MKFA): Todd, your work has been gaining momentum in the past few years—it was included in the Whitney Biennial 2019 and you were awarded a Guggenheim Fellowship in 2018—how has grant funding impacted your practice?

Todd Gray: All of the good fortune I am receiving by way of support helps me to imagine on a larger and riskier scale. My ideas are more expansive and with the added attention resulting from institutional notice I am thinking of more strategies to directly engage communities in meaningful ways. Hence the extensive programing component accompanying the Euclidean Gris Gris exhibition at Pomona College Museum of Art. I'm also more present and attentive when researching or making art, enjoying the process more. The joyful component of creating and making that compelled me to become an artist in my youth is as important now as the conceptual critique embodied in the work itself. The works are freer, flowing—sweeter. I've tuned into a heightened tonal frequency that lifts the work on its own.

MKFA: It's nice to hear such a joyous answer! Specifically, that grant support has allowed you (time? freedom?) to embody both joy in making and critique in your work. These two things are not always mentioned in the same sentence.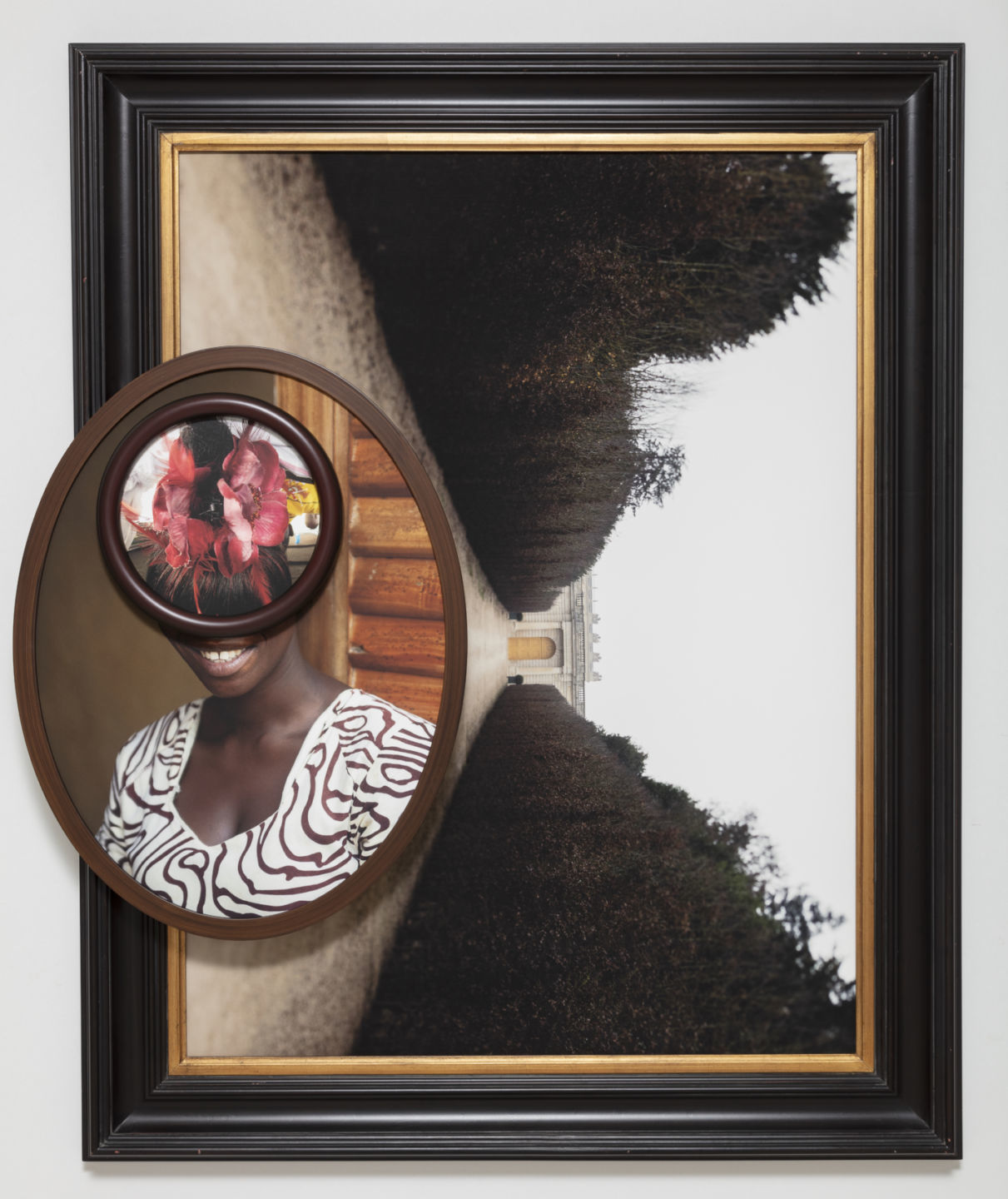 Todd Gray: Yes, time and freedom are in the mix, but there is something less tangible—it's the knowledge that a panel of peers reviewed the work and confirmed what I've been doing in the studio for years—making singular work that resonates with the time in which we live.
MKFA: Rebecca, how does Todd's work resonate with the history of PCMA's program? In applying for the Mike Kelley Foundation for the Arts' (MKFA) Artist Project Grant, how did you see his work aligning with MKFA's philanthropic goals?

Rebecca McGrew:Todd's work was a perfect fit for Pomona. I've followed his work for years, and this newest body of work is his best yet. As you probably know, the PCMA has quite an illustrious history of supporting avant-garde art and has played a vital role in the history of art in Los Angeles. The earliest example is Prometheus, a fresco painted on the campus in 1930 by José Clemente Orozco and the first artwork by a Mexican muralist in North America. A more recent precedent for this kind of work at Pomona occurred in the late 1960s and early 1970s, when gallery directors Hal Glicksman and Helene Winer established a vision of supporting emerging and mid-career artists—Michael Asher, John Baldessari, Chris Burden, Judy Chicago, Judy Fiskin, James Turrell, and William Wegman, among many others—who were based in the Los Angeles area and doing exploratory, innovative projects. The Project Series at Pomona, founded by me in 1999, has continued the legacy of working with artists engaging in the contemporary cultural moment; artists have included Andrea Bowers, Mark Bradford, Charles Gaines, Hayv Kahraman, Dinh Q. Le, and Amanda Ross-Ho, among others. Project Series 53 will be Alia Ali.
As senior curator, my vision for the PCMA has been to highlight contemporary artists by presenting innovative, collaborative, and provocative concepts and ideas. Artistic vision has always been the driving force. Doesn't this sound exactly like a perfect fit for Todd's art? The Mike Kelley Foundation's mission to work with local nonprofits to support artist-centered projects, particularly the creation of new works, as well as dynamic collaborations between artists and host organizations, clearly fits my vision for this exhibition project with Todd and his beautiful and sophisticated visual language that resonates so powerfully right now.
MKFA: These kinds of dynamic collaborations are what speak to grant selection panels—the strong programming history of Pomona College Museum of Art, and Todd's work: his presence and contributions to the Los Angeles art community and how a show like this was past due.
Todd, you make work in different locations—Los Angeles and Ghana, and you will be in residence at the PMCA for the run of the exhibition. How does location influence your work? What do you want to do with the time you have during your residency?
Todd Gray: Place produces a subtle yet significant effect on my thinking and being. My perspective changes and I notice things which otherwise would have fleeted passed my consciousness. In Ghana I'm able to slow down considerably. Outside of the machine called Los Angeles, the auto-neurotic programs running inside my head are paused and observed. My inner-narrative changes along with the filtering system used to process and shift the stream of data my senses use to confirm or conform to my preconceived notions of self and reality construct. At times, I'm able to hold a simultaneous micro—macro perspective where seemingly contradictory views merge and harmonize into clear view which is absorbed into my work.
When I'm present at the museum, using it as an open studio, I feel the connections I have with community, less so when working alone in my L.A. studio. I want to share what little wisdom I've acquired in life with the young students and others walking by, pointing out the landmines and traps our culture has put into place limiting our growth and freedom while forming us into a normative mass reflection of itself. Hopefully this adds another dimension to the programming component of my collaborator Nana Adusei-Poku.
The ability to have dialogues through the artwork placed in the museum along with verbal interaction with students during my residency is terribly exciting and important to me. I conceived the residency as a way to share and speak directly about issues that inform my work — mental colonialism, internalized racism, hegemonic power and much more. I'll also produce more wall drawings and invite visitors to help. Additional travel to West Africa will take place and I'll return and make new work using these images along with my existing archive and add them into the show. The exhibition will grow and change in ways I cannot preconceive during the year.

MKFA: It's so great that the lectures series and your residency set up the exhibition as a place of dialogue, which is generous and important given the issues that inform your work. I am fascinated with the potential of adding work to the show and changing things around, and having this structurally align with resisting limits imposed by culture.

In an earlier conversation I had with Rebecca, she mentioned your interest in literature, and provided a selection of books that are part of a reading area created for your show. What is the connection between the reading materials and the exhibition?

Todd Gray: Allan Sekula was the artist I worked closest with during my graduate study at Cal Arts. Sekula gave me an extensive reading list that became the primary component of the research for my MFA exhibition. After finishing the list profound changes occurred in my thinking, art practice and sense of self. Although I was given a ton of reading in my course work there, in both the undergraduate (1987-89) and ten years later in the graduate program, I had never once been instructed to read anything written by a black thinker. Sekula pointed me in a direction that I have not wavered from ever since. I read Frantz Fannon, bell hooks, James Baldwin, Toni Morrison, W. E. B. DuBois, Henry Louis Gates, Alice Walker, and later, Stuart Hall. Dialogues with the curatorial team Hannah Grossman, Rebecca and especially program curator Nana Adusei-Poku leading up to the exhibition added to the reading list. My work is not didactic but it does have meaning. I use photography in the service of plurality, resisting cultural expectation for the medium to provide simple answers and pose questions instead. Many of the books that inform and are in dialogue with the work are present and available to viewers who want a deeper understanding of the thoughts and questions that I found transformatively vital. After reflecting on the reading my hope is that a second viewing of the exhibition will be quite different from the first, possibly foregrounding and illuminating signifiers slumbering within the work.

MKFA: So many important writers on this list! It also becomes this really amazing learning tool—maybe students won't be able to read all these books during the run of the show, but the list can stay with them as they continue to develop their own practices.
Rebecca, PCMA will get to have a close relationship with Todd through his residency, the lecture series "Longing on a Large Scale", and reading area that accompanies the lectures. What are the goals of your residency program given that the Museum is part of a college campus?
Rebecca McGrew: Todd's exhibition at Pomona College represents a significant moment for the Museum of Art. It's an ending and a beginning. Todd's exhibition marks the culmination of our work in the Montgomery Center, the museum's home for over seventy years. This major exhibition by such an important, and generous, artist begins the transition into our fabulous new Benton Museum of Art which opens in the fall of 2020. This is a roundabout way of answering your question, but I want to put this in context. We are a college museum. Todd was a professor for years. It's appropriate we mark this moment with this exhibition. Todd's project also responds to the vision of the Project Series. His willingness to engage with Pomona and our communities over a complete academic year to expand students' experiences is the definition of an artist in residence. This echoes our goals of encouraging creative exploration and experimentation rooted in sustained contact with students, faculty, and staff. The Pomona College Museum of Art's mission is to make the visual arts an essential part of the experience of all Pomona College students. To achieve this, we integrate the creative energy of the visual arts into the broader intellectual and disciplinary context of Pomona College. In artistic vision and intellectual breadth, Todd's work fundamentally represents the intellectual project that is at the core of the liberal arts education. It asks us to question expectations and it invites the participation of the community and the engagement of faculty and students. Todd is such a perfect fit for Pomona!

Todd Gray: Euclidian Gris Gris runs September 3, 2019 – May 17, 2020 at Pomona College Museum of Art. Please visit PCMA's website for more information on programming and events.